Clinically Proven, Affordable, & Effective Solution To Relieve Headaches and Eye Fatigue
When modern technology meets health, the result is an extremely effective solution to common everyday problems.
The CloudEyes ™ Eye Relief Massager is an advanced eye massager that utilizes clinically proven warmth, acupressure and vibration massage therapy plus calming music to relieve headaches, insomnia, eyebags, and chronic eye fatigue. Its made to be the miracle cure that can provide you instant relief & combat all eye related problems, effectively.

Interested in giving it a try? Our Customer Satisfaction Program™ offers a 60 day money back guarantee for all customers. Try it at home & if you don't like it, return it for a refund. No questions asked.
Shipping Info
Providing eye relief worldwide, CloudEyes only uses the highest rated & most reliable couriers to deliver our product. All orders dispatched are sent by verified express partners equipped with door to door tracking
Estimated Shipping Times Are As Follows:
Standard Shipping (USA, CA): 3-10 Business Days
Standard Shipping (UK, EU, AU, NZ): 5-13 Business Days
All Others Countries: 10-20 Business Days
Warranty
1-Year Warranty + 60 Day Money Back Guarantee 

Our products are built with high quality, modern equipment & manufactured at our verified facilities. Durability is something we are proud of with the massager - but in any case, we have you covered with a 12 month warranty
After receiving thousands of customers, reviews, and submissions - we wanted to additionally offer a 60-Day Money Back Guarantee as part of our Customer Satisfaction Program™ . We are so confident in our massager that if you genuinely do not enjoy it, you can return it within 60 days with a full refund.
All of this is in effort to make sure that every customer life is fundamentally improved by purchasing our massager!



"One of my best online purchases. If there was ever a debate on the most effective cure for headaches & eye strains - CloudEyes is it!" 
- Jade L. (CA) 🌟🌟🌟🌟🌟
CloudEyes ™ is Clinically Proven To Help:
•  Migraines, Sinus Pressure, & Headaches
•  Dry & Tired Eyes
•  Insomnia 
•  Eye Bags & Dark Circle Under Eyes
•  High Stress & Anxiety 
Features Include....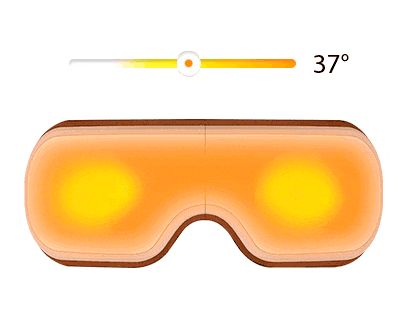 Heated Compression
 CloudEyes utilize the clinically proven technique of heat compression to have your eyes water up, improve blood circulation, & promote lymphatic movement in your orbital area.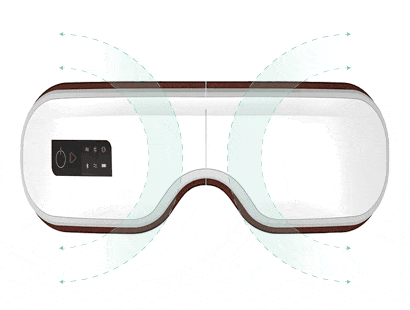 Multi-Variant Massage
 CloudEyes gently massages your temple whilst also stimulating key eye pressure points. This helps significantly reduce migraines & eye strains.
Fluid Vibration
Consistent vibration helps compliment the massage whilst also providing a comfortable sensation for you to drift off into the clouds. Helps induce sleep.
Bluetooth Music Built-In
Music provides a peaceful stimulation of your senses to help aid the overall deep relaxation that the CloudEyes provides
How Does It Work?
The CloudEyes™ Eye Relief Massager uses modern massage technology blended with heated air compression clinically proven to provide relief to headaches & eye strains. By gently massaging your temple & acupoint areas, the eye massager is able to provide rhythmic motions to promote relief & combat headaches, stress, eye pains, & insomnia in just 15 minutes
With built-in heating pads that allow for an adjustable range of temperature from 100 - 107 Fahrenheit, the heat is scientifically proven to stimulate blood flow around your eyes, reducing dark eye bags/puffiness, promoting deeper sleep, whilst leaving your eyes soothed & refreshed!
Who's It For?
If you suffer from frequent headaches, dry eyes, bad quality sleep, or stress - the CloudEyes ™ Eye Relief Massager is for you! 
The massager is designed to give you healthier eyes & relieve all eye related problems, whilst also battling headaches and poor sleep - including sinus problems, dark circles under eyes, migraines, etc.
Built to be used in the comfort of your home, the massager was made for those needing frequent care without the costs of expensive doctor trips
Its the perfect solution for anyone wanting healthier eyes, better sleep, with less headaches!
Package Includes:

1x CloudEyes™ Eye Relief Massager

1x CloudEyes™ Portable Case
1x Instruction Manual
1x USB Charges
FAQ
💬 How Long Until I See Results?
After studying more than 3000 customers we found that 90% felt their headache, tensions, or migraines feel considerably better/disappear after just 15 minutes of use
💬  How Effective Is This For Headaches?
Very effective. The massager was built specifically to combat dry eyes & headaches - the heating function is extremely effective against headaches, with thousands of customers agreeing that it has been their savior when it comes to head pain.
💬  How Many Times & How Long Should I Use This?
We advise a month of 4-5 times a week, for 15 minutes each session
💬 Will The Heat Compress Burn Me?
The heat compress has two settings, both of which are far from any temperature that can burn you. It ranges from 100 - 107 degrees Fahrenheit. This is the clinically advised temperature to relieve eye fatigue 
💬 Can I Wear Contact Lenses?
Absolutely! Our eye massager is completely safe & tested on those with contact lenses

💬 Is The CloudEyes Massager Safe?
The CloudEyes Massager is 100% safe. Through countless testing periods, our team has prioritized safety & has received all medical certifications to be considered a safe device for your eyes
NOT SATISFIED? RETURN FOR A REFUND. NO QUESTIONS ASKED.
All orders are backed by a 100% Risk Free, 60-Day Money Back Guarantee. Try out the CloudEyes for 30 days and if it doesn't help you, contact us and we will sort out the return/refund